Case Study: Two Travel Photos and the Process of How They Were Taken
I often find myself analyzing other photographers images which inspire me. This helps me to think creatively and technically when I'm not out shooting myself. When looking at other photographers photos I ask myself questions such as; Where is the light coming from? How did the photographer interact with the subject? What is it about the composition that makes this a strong image? These kinds of questions are typically answered casually when I'm browsing photos, but it's important to slow down occasionally and look a little closer. Here are two travel photos with more specific information on the conditions of how each was captured. I hope these examples will sprout some questions and get your creative and technical juices flowing.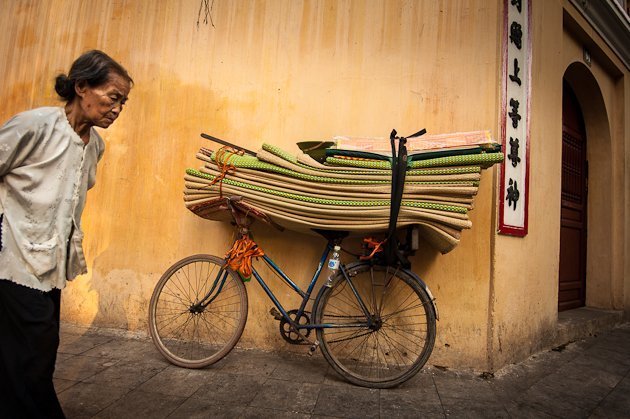 Photo Details:
Camera: Nikon D700
Lens: Nikon 16-35mm @19mm
ISO: 640f/4.01/400sec
White Balance: 6656K
Capture Time: 6:15am (Sunrise at 5:30am)
Light Source: Natural Light
The above photo was taken on a street in the Old Quarter of Hanoi, Vietnam. Hanoi is a great place for street photography because of the old buildings, the colorful people and general busyness of the city. I woke up at 5:00am to head out for a morning of shooting. At this time in the morning the streets are a lot less crowded, the light is usually softer and people are just starting to go about their daily activities. I find these conditions to be a lot more accommodating to shoot in. After walking around for about an hour I found a yellow wall with a bike parked in front of it. Right away, I was attracted to the wall by it's color, the wooden door, the Chinese characters, and of course the bike with mats parked in front of it (which speaks loudly of Hanoi). The light was diffused and created a soft glow that was ideal for this photo. I went ahead and exposed for the scene and took a few test shots to find a good composition.
At this point, I wanted to include a person in the frame to add an additional element to the photo. Because it was early in the morning there were not as many people walking around, which is what I wanted. If the streets were crowded it would have been hard to keep other unwanted people out of the frame. I sat down on the sidewalk waiting for someone to pass. I kept my camera hidden so people wouldn't avoid walking between me and the wall (sometimes when people see a camera they will avoid walking in front of you – either out of courtesy or because they don't want to be in the picture). After about 15 minutes a lady started to approach me and I prepared my camera. She passed exactly where I was hoping she would and I was able to get three photos fired. Because I anticipated that my subject would be walking by I set my shutter speed to 1/400th of a second. I didn't want the subject to be blurred so I intentionally set a faster shutter speed. I think by having a human subject in the frame the image created is a lot stronger. By waiting, anticipating and having good soft morning light a nice street photo of Hanoi was captured.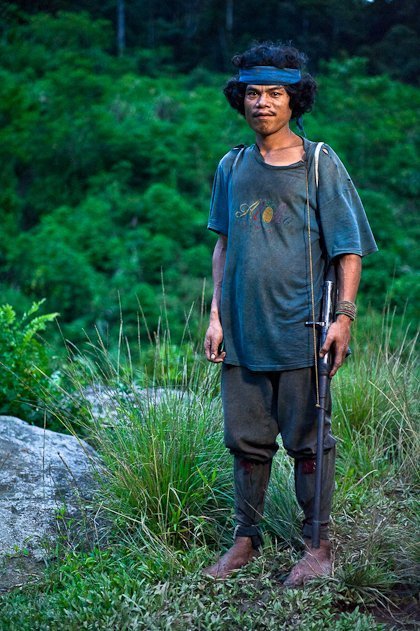 Photo Details:
Camera: Nikon D700
Lens: Nikon 24-70mm @ 70mm
ISO 4000f/2.81/160sec
White Balance: 5600K
Capture Time: 4:45pm (Sunset at 5:52pm)
Light Source: Natural Light with Remote flash using Nikon SB800 and Photoflex Travel Soft Box (Flash settings: Manual 1/16th Power, Rosco Orange Gel)
This photo of a Manobo hunter was taken in the mountains of Mindanao in the Philippines. This is a very remote place which took a day of travel to reach, including a 5km hike up a mountain. Because of the remoteness of this location I didn't want to bring a lot of heavy gear with me. A very useful tool I almost always take with me when I travel is a small Photoflex Softbox that folds up into the size of a small pouch. This softbox works great for portraits when you need to diffuse strobe light in remote locations like this one. Because the sun had already set when I saw this man I decided to use my strobe with the softbox to create an effect of sun rays hitting the subject. The strobe itself was covered with a soft orange gel to warm up the light slightly (emulating a setting sun). The softbox was used to diffuse the light and make for a more flattering portrait. It was held in the air at about a 45 degree angle pointing down at the subject (imagine the angle of the sun on the horizon). I chose the focal length of 70mm which is generally a flattering focal length for portraits.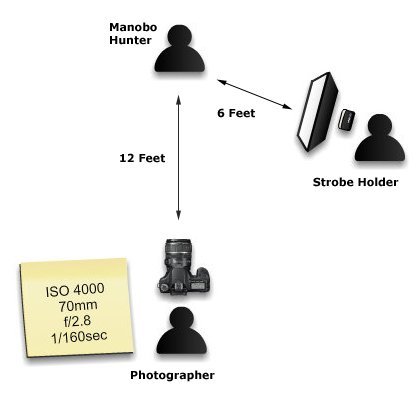 As the man was walking up the path I acted quickly to meet him. I asked him if it would be alright to take a photo of him and he complied. I immediately started to think what my camera settings would be as I only had a few minutes before the man would want to be on his way. I used the on-camera meter (Evaluative/Matrix Metering) to fix my exposure at about a half stop below what it told me (and keeping my shutter speed below 1/250th of a sec – the fastest shutter speed my camera would be functional at when using a flash). I also adjusted my white balance to keep the mountains faintly blue. This gave me a slightly darker background with a cool/bluish color. Now I just needed to adjust the flash power which I did by trial and error. I picked 1/16th power on the strobe knowing I could adjust this after a test shot was done. After one test shot I realized that my subject needed a little more light on his face. I had my wife (who was holding the strobe) step forward a few steps, instead of increasing the flash power. While composing this image, I intentionally did not include any sky in the frame because I didn't want the viewer to be confused as to the source of light. When emulating the sun with a strobe I always try to eliminate other natural light sources. If your viewer can see another natural light source (like the sky) it can contradict the artificial light and make the photo look very unnatural.
I was then ready to shoot. I asked the Manobo hunter to look at me using nonverbal language to let him know I was ready. I took six photos before the man's expression changed and I could tell he wanted to go. The whole process of this portrait from seeing the subject to executing the lighting was done in less than 5 minutes. My flash was already setup and ready to go in the softbox before I saw even saw this man, which saved a lot of time. If I had to setup the softbox it would have changed the whole dynamic of the situation. By being ready and acting fast this portrait with semi-complicated lighting was able to be made on the fly.