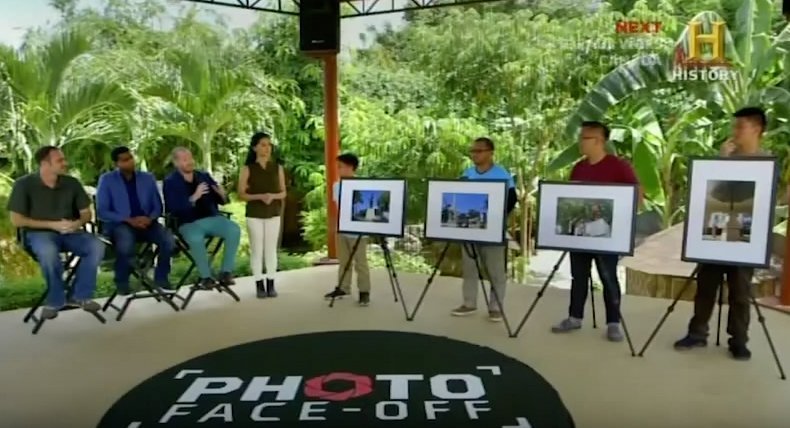 GUEST JUDGE ON HISTORY'S PHOTO FACE-OFF
I had the privilege of being a guest judge on the finale of History Channel's Photo Face-Off Season 2. It aired in Asia at the end of October. My first big appearance on TV and it was a lot of fun. I helped judge the second of three challenges in the finale. For those of you who didn't catch it already, and are interested, I'm posting the episode below. My segment starts at 16:25.
About the Show
Photo Face-Off is back! After the success of Season 1 Asia's leading photography competition show is returning for Season 2 – bigger, better and even more competitive than before. Hosted by the lovely Sarah Lian, Photo Face-Off Season 2 – Presented by Canon PhotoMarathon will herald the return of everyone's favorite pro photographer: Justin Mott and introduce 16 fresh amateur photographers, from six different countries, all vying to become Asia's Photo Face-Off champion.
Across 6 one-hour episodes viewers will be treated to a whirlwind tour around some of the region's most exotic locations as we pit three local amateurs from each country against each other, and our resident Series Pro, in a bid to grab the single spot available in the season's Grand Finale in the Philippines.Each episode will feature three fiendishly difficult photo challenges – Speed, Theme and Extreme – all designed to push the contestant's skill, knowledge and creativity to the limit. And every show will also offer the viewer unique tips and tricks from some of Asia's leading photo professionals in the 'Light Box' segment.
The Grand Finale, on the beautiful island of Cebu, will see 6 'Champion of Champions' battling it out in one final 'Face-Off' for a chance to win bragging rights and exclusive Canon photo trips and prizes. A 'must watch' for happy photographers, talented amateurs and viewfinder visionaries alike Photo Face-Off – Season 2 is back to make taking photos even more fun!