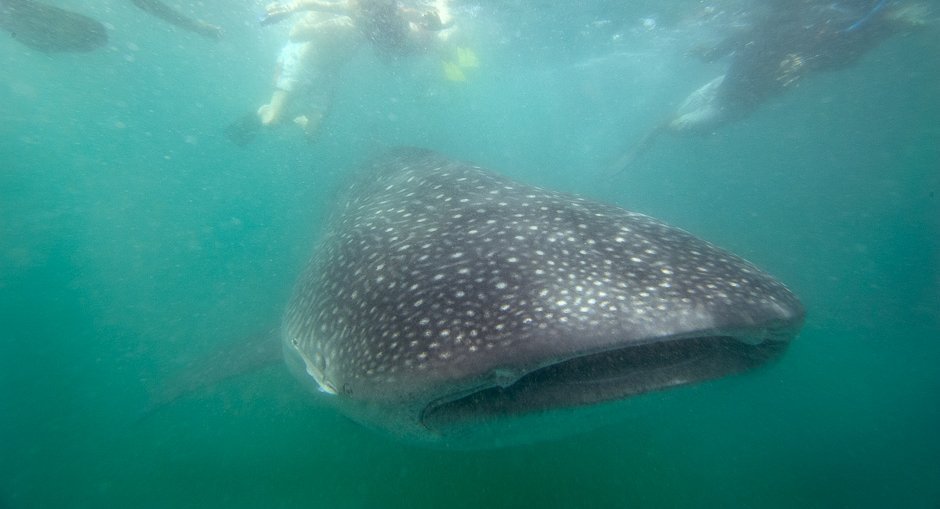 The Whale Sharks of Donsol
Donsol, Sorsogon, Philippines
I've spent the last two days enjoying a unique experience that is becoming more and more popular with both foreigners and locals here in the Philippines. Donsol is one of the few places in the world where you can swim with the largest of fish, the Whale Shark or Butanding in Tagalog. Coming to Donsol is something I have wanted to do for a long time, but because of the short Whale Shark season I have never made it until this year (however, we found out the season here is actually from December to June, not only March and April like we thought). I have heard a lot of good things about how the Whale Sharks have helped this community with tourism and how well it is being managed, from a conservation standpoint. However, I have also heard a few different opinions about how with the increasing number of visitors and increasing prices perhaps the wrong people are pocketing more of the profits. Our guide told us that when Whale Shark tourism in Donsol started in 1998 they did 100 trips that year. Last year they did over 5,000 trips and they expect to do over 6,000 trips this year. Needless to say, more and more people are coming to swim with these beautiful and docile animals.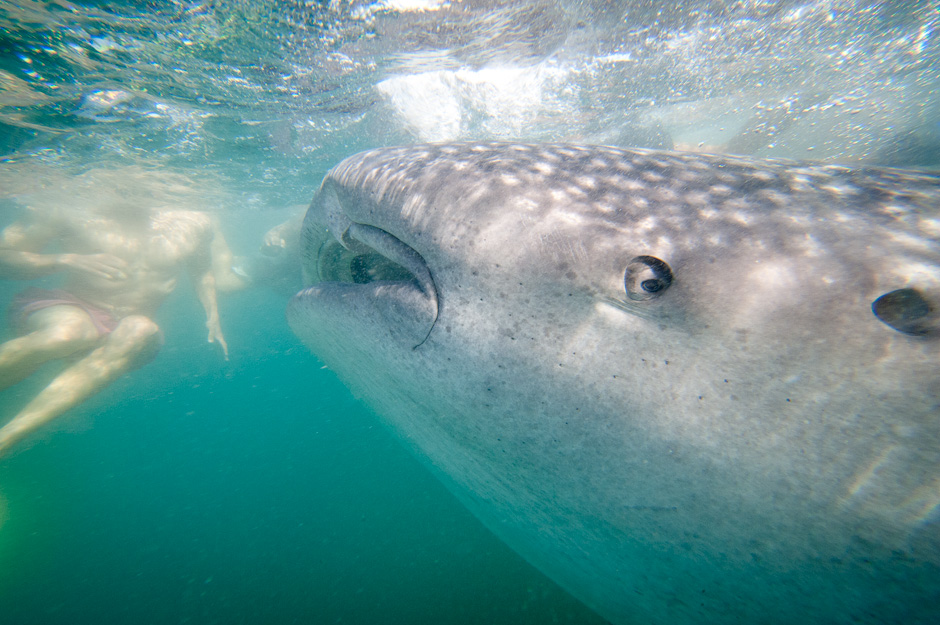 I was a little overwhelmed when we saw our first sighting. There were about 8 other boats trying to view the same Whale Shark. Even though only one boat (each with six snorkelers) are allowed to be in the water at once, the rules are not always followed. It was eventually our turn to get into the water. We followed our guide and watched where he pointed underwater until a large Whale Shark appeared from the murky water. It was swimming fast and went directly beneath us. I got a little camera crazy and just started to shoot with hopes to get something. I managed to get some images of the white spots on the back of the Whale Shark and a lot of murky water. I soon got familiar with the swimming patterns these large animals and did my best to get some nice images. The Whale Sharks always swim against the current, so it is very tiring when trying to keep up with the speedy fish and then have to take a deep breath to dive down and get as many pictures off as possible. I realized I'm a little out of shape. On our first day of diving we saw seven Whale Sharks and four on the second day. Our guide tried to stay away from the other boats as much as possible, but we occasionally ended up with the crowd of people in the water. There were times when my mask was kicked off my face by another swimmer because it was that crowded, but we also had a Whale Shark all to ourselves. It's quite amazing to be swimming with wild animals like this. I was with six other friends on this trip and they all had a great time and couldn't stop talking about the experience. I think that is a sign that this type of tourism can not only benefit the local community, but it brings awareness to lots of others as well, including myself.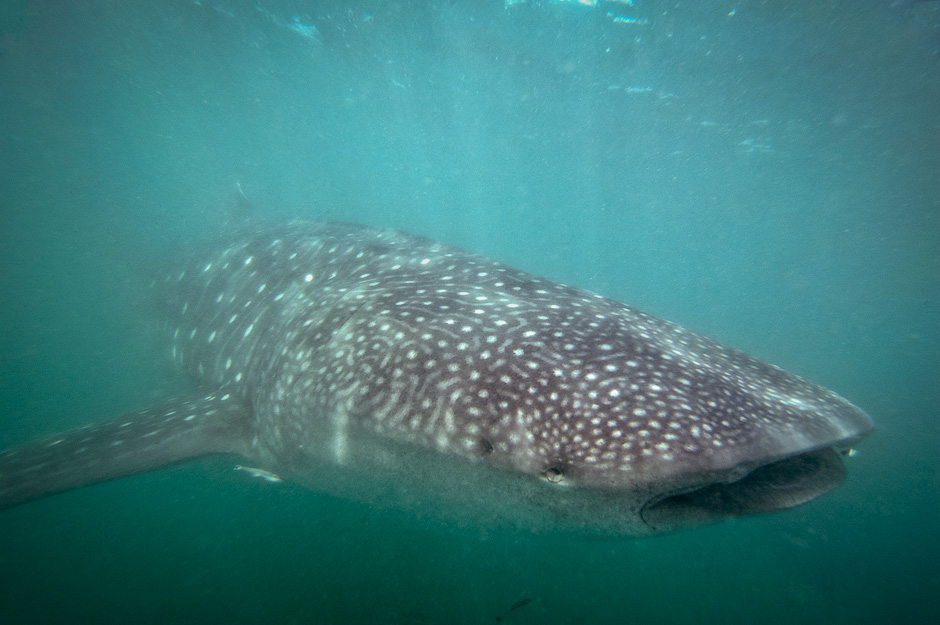 I have to now rest my sore muscles and burned back and figure out what is next. I'm on my way heading north through southern Luzon with plans to be in Infanta for Holy Week. I'll be going back to document the penitents there once again on Good Friday. Not sure what we will be into between now and then, but perhaps we will try to make it to Marinduque for their festival.
The images below are from this morning outside our small rented room in Donsol. A great view of Mt. Mayon and there are a number of shrimp fishermen in the area that get an early start. A beautiful way to start the day.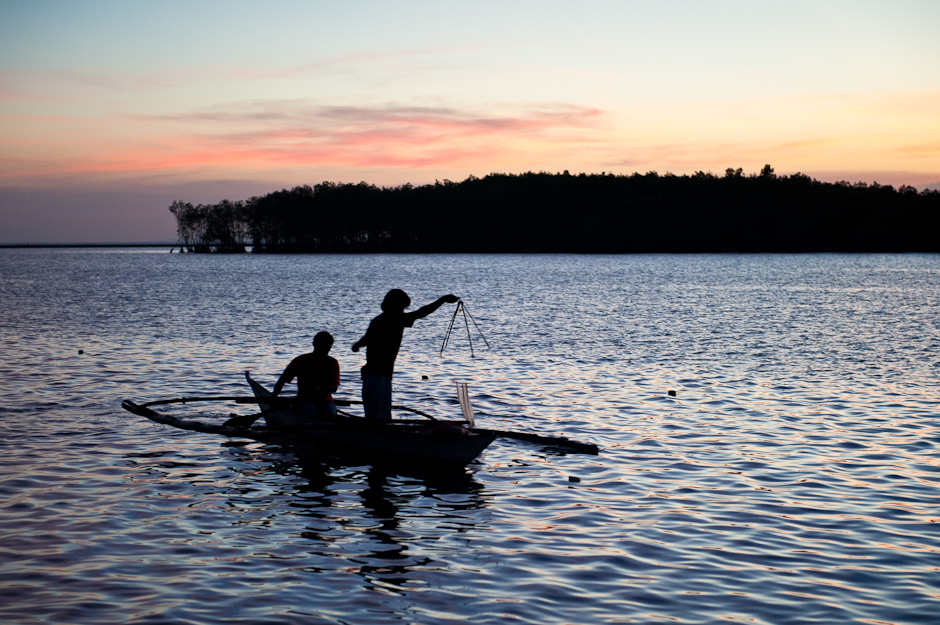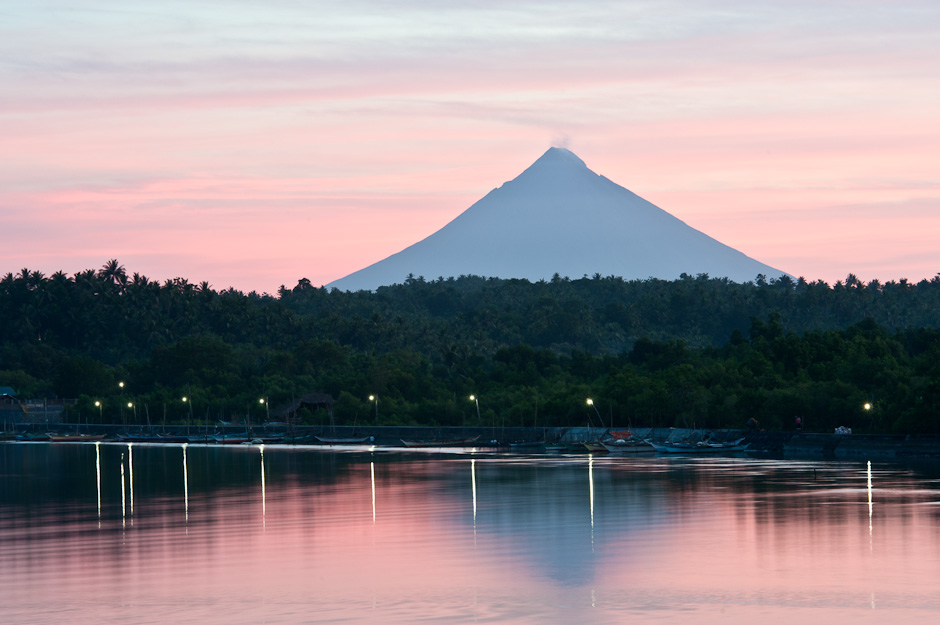 Jacob Maentz
Apr 15, 2011