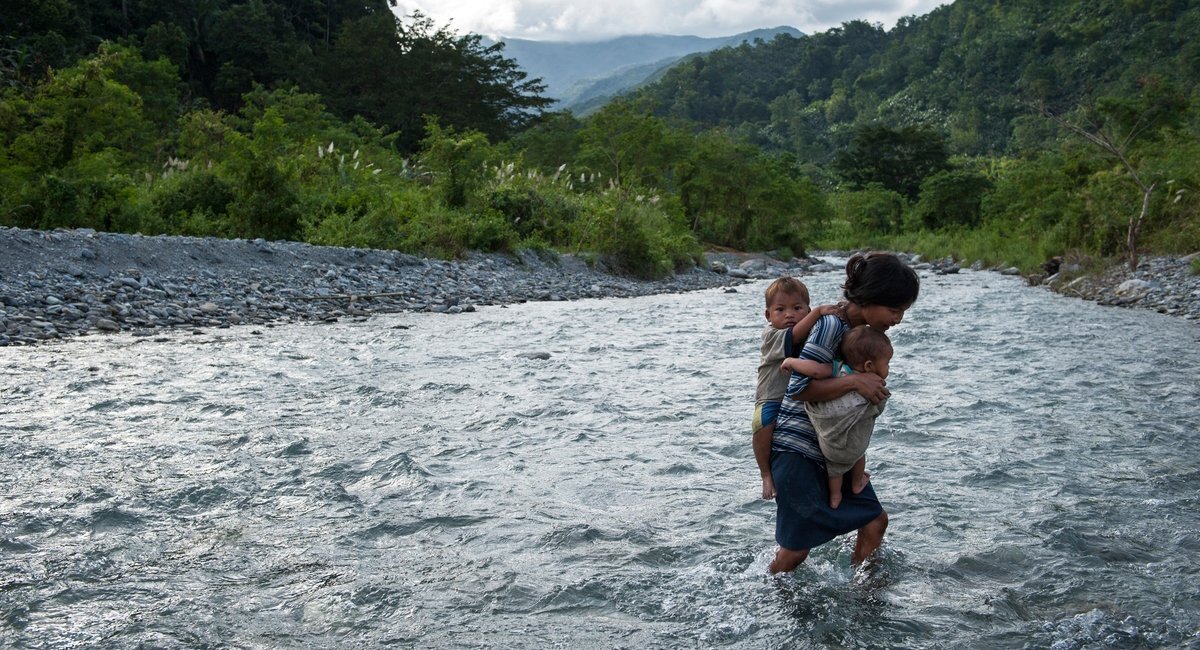 The Forgotten Ten – Exhibit Recap
Makati City, Philippines
It's almost been one month now since The Forgotten Ten exhibit came to a close at Yuchengco's Water Dragon Gallery in Manila. Now that I have been able to catch up with everything since the closing, I wanted to take some time to thank everyone for making this such a successful event. There are a number of people to thank, from our sponsors, to those who helped with preparations and of course everyone who made it out to the gallery to show their support. I also thought it would be nice to put together a summary of the exhibition, share some insights, get more feedback from people and talk a little about the future of the Katutubong Filipino Project.
First I would like to thank Asia Society Philippines who initially approached me about doing this exhibit. From the very beginning we worked hand-in-hand, brainstorming and preparing all aspects of the show. Without their partnership and expertise this event would have never happened. I would like to especially thank Marge Madrigal from Asia Society who put in numerous hours to make this all come together. Our generous sponsors included Ultra Digital Imaging who did all the amazing printing for the show, The Extra Mile Productions who was so generous in many ways, Friends for Cultural Concerns of the Philippines, Far Eastern University and Yuchengco Museum. Our graphic designer, Rey Ucat, spent many hours using his creative talents to produce all the design elements of the exhibit. His work is top-notch and I can't thank him enough for his help. I'd also like to say thanks to San Miguel Brewery for their support during the opening night, and to The Manila Times and Business World for giving us ad space in their newspapers.
Then there were other media outlets and bloggers who really helped promote the show and I am so grateful for their help and interest. Maya Calica did a story for Smile Magazine (in-flight magazine of Cebu Pacific) which helped bring a number of people to the show. Rappler supported us with a story that came out during the last week of the exhibition, Mabuhay Magazine (in-flight magazine of Philippine Airlines) and Travelife Magazine both ran promotional pieces, Choose Philippines did a couple of articles and even created a video of the opening night. There were a number of fantastic bloggers who also came to the exhibit and reached out to their audiences including Estan Cabigas of Langyaw, Gay Emami of Pinay Travel Junkie, Ferdz Decena, and Darwin Cayetano of Tracking Treasure. There are others who I know I have missed, but I'm sending my sincere thank you to everyone who made this possible.
When Asia Society and I started to talk about doing an outreach campaign we wanted to find a medium that would really bring the Katutubong Filipino Project into the spotlight. By doing an exhibit we agreed that it be one of the best ways to showcase images to a larger audience and help educate and get our message out. We knew doing this type of event would involve a lot of work and resources, but then again how often do you do an exhibition likes this. We jumped in and everything came together. It took months and months of preparation and planning and now looking back it's great to know our effort made a bit of difference. Honestly, this event was really rewarding and I enjoyed the learning that was involved. It isn't often you get to see your photos in print and going through the printing process gives a different meaning to your images. Aside from the technical aspects of preparing the photos, seeing your images printed really brings them to life. I would say that the whole process certainly makes you a better photographer.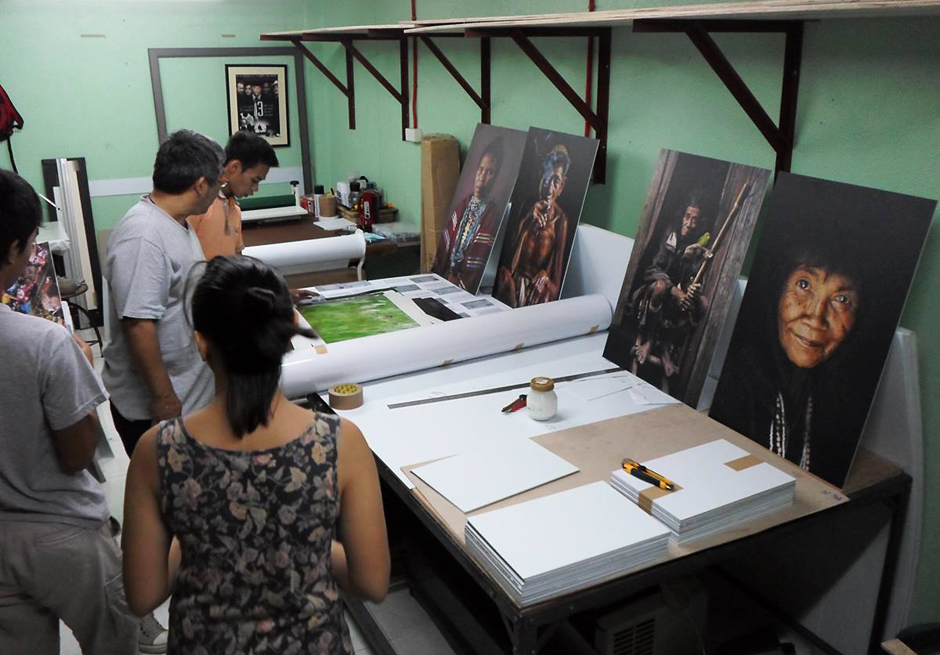 There were 103 photos on display, which is a large amount for a typical gallery showing. However, we wanted the images to be displayed in a story-telling type of arrangement and having this many photos allowed us to do that. The captioning was also very important to help tell a strong narrative and I believe I spent more then two weeks gathering information and writing the caption boards. We really wanted to highlight the different aspects of indigenous life in the Philippines including important issues, everyday life and cultural practices. From my own observations and others feedback this approach seemed to work well and people were generally spending time reading the captions. My hope for the exhibit was that people would walk away with a little more knowledge, understanding or perhaps a completely different view of indigenous peoples here. Captioning was an important part of this and helped bring the photos into context.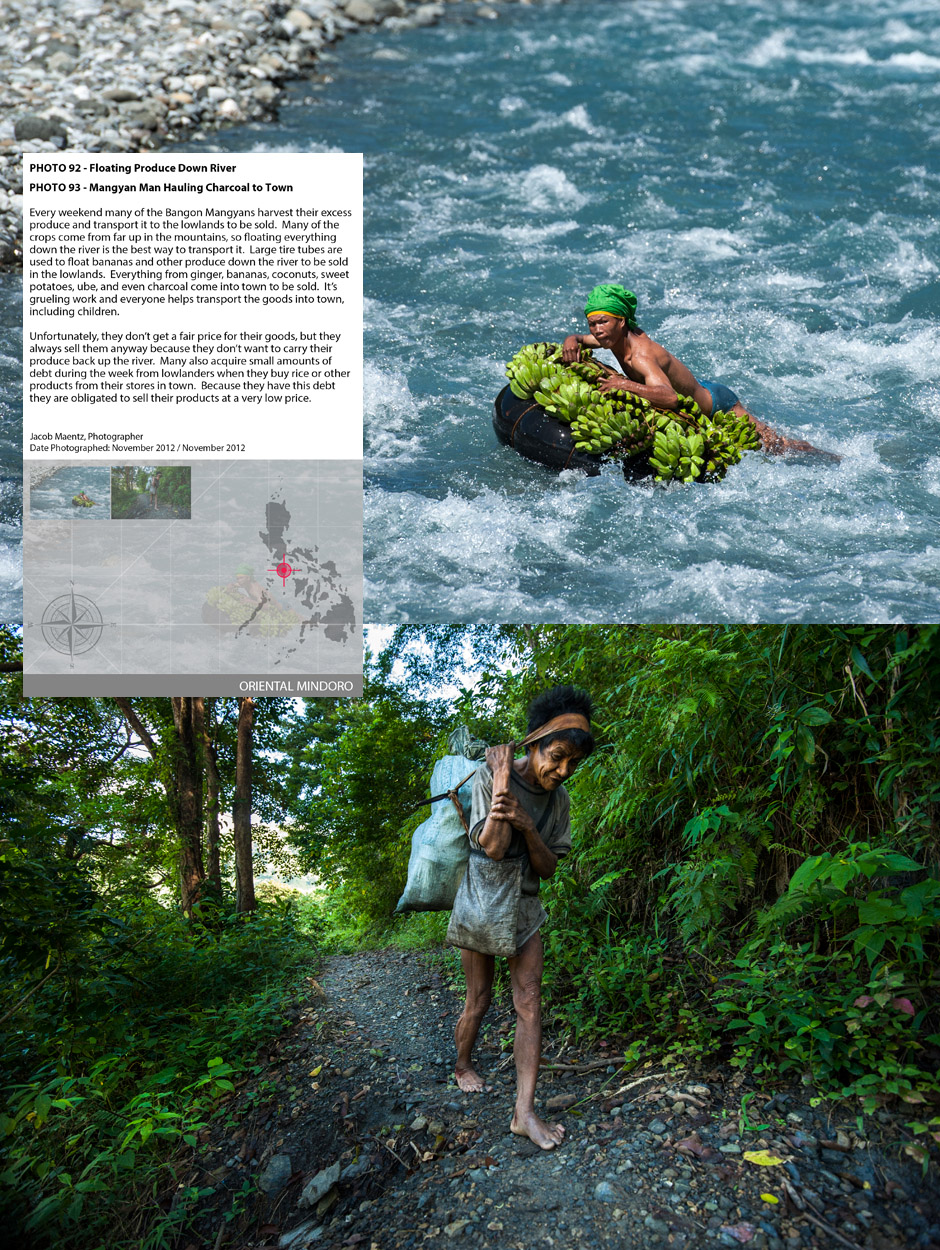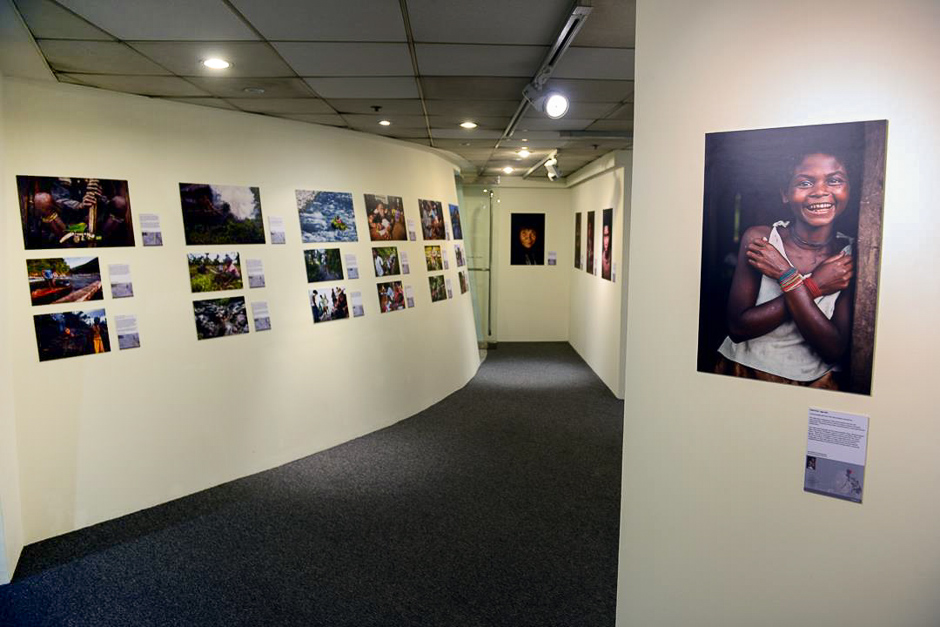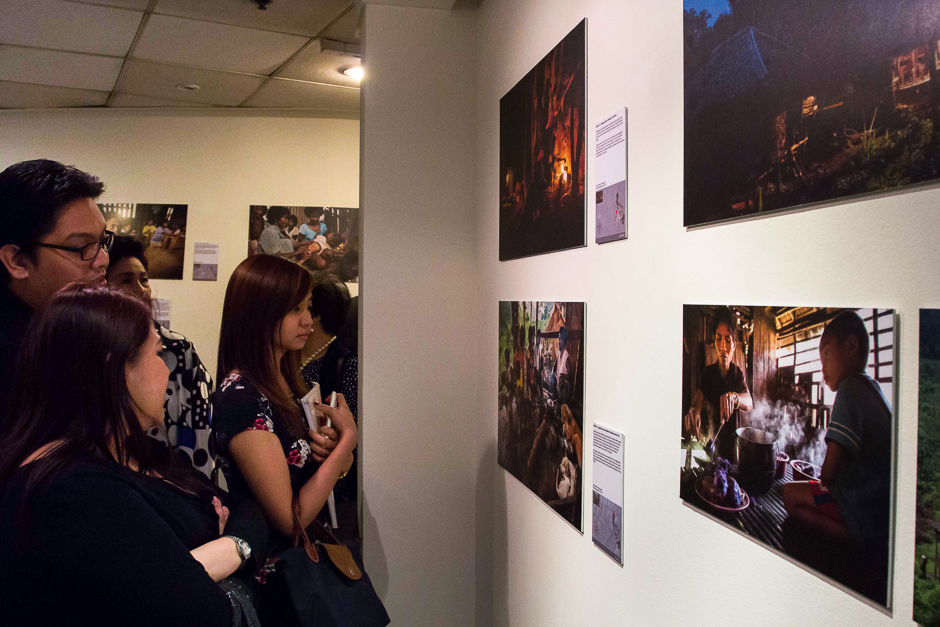 The opening night went really well and was attended by a wide range of people from different indigenous peoples to dignitaries, photographers, NGO's, government officials, media, sponsors and supporters of the project.
During the program, documentary photographer Jacob Maentz spoke about the importance of photography as a means of highlighting causes, most especially the cultural heritage and traditions of the indigenous tribes of the Philippines. He said his hope was that the project become something truly special and that it provokes thought and change for the country's often forgotten indigenous groups. Images themselves don't change the world, but images have caused reactions in people, and those reactions have caused change to happen.
Lawyer, indigenous advocate and a Mangyan tribal member himself Atty. Renato Zosimo Evangilista also spoke at the event. He spoke candidly about his experience transitioning from a traditional tribal life to becoming a lawyer fighting for the rights of his people, the Hanunuo-Mangyan tribe in Oriental Mindoro. Atty. Evangelista pursued his Masters of Law at he University of Essex under the British Chevening Scholarship. (Asia Society Press Release)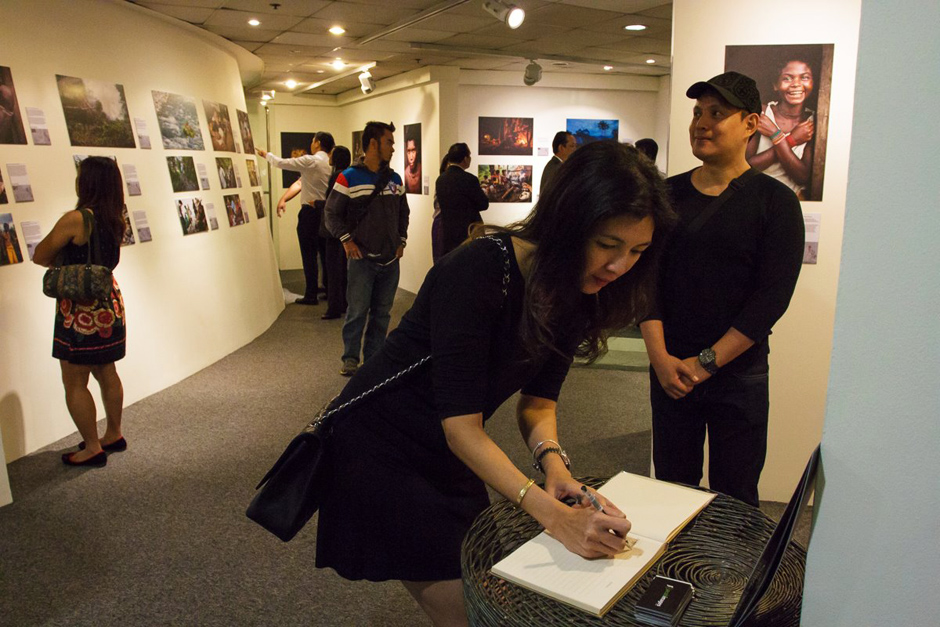 Below is the video put together by Choose Philippines during the opening night. I was even able to answer a few of their questions. Thank you again Choose Philippines team for taking the time to do this. I should also mention my gratitude to David Katz who helped document the night with photos.
This exhibit really helped me put some perspective on the Katutubong Filipino Project and gave me somewhat of a renewed energy. Seeing that there is a genuine interest from a lot of people really does help to energize you. I keep saying that I want to continue the project for a number of years to add coverage and depth to the areas we have already been to. Right now there are 6 areas/trips that I hope to take within the next year, when funds become available (which is always the hardest challenge). Longer term, a book will likely be published as that was probably the number one response to the exhibit. A number of people told me that I should put this into book form. There are lots of ideas floating around, but I plan to focus on adding more coverage for the next couple of years.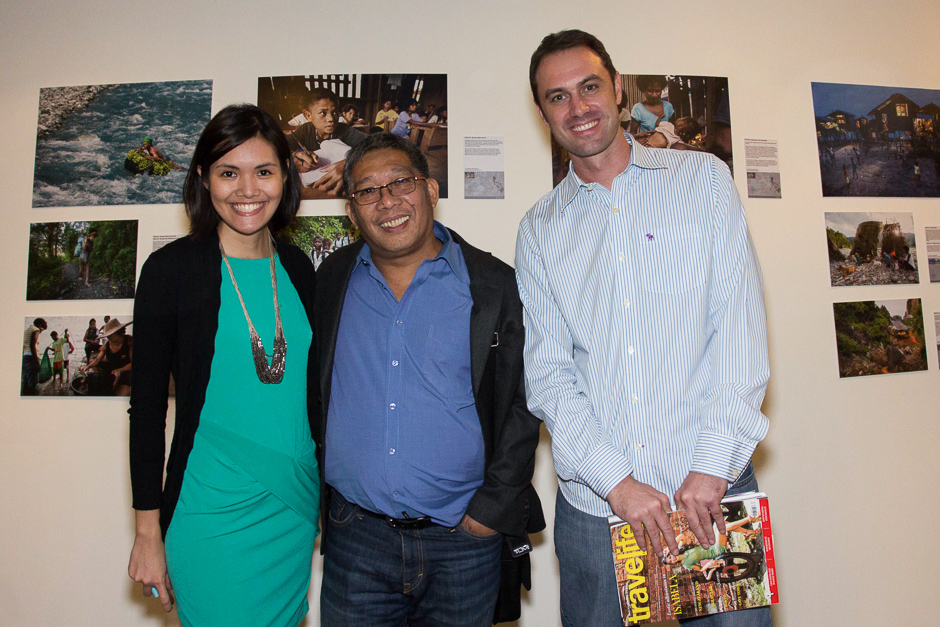 Currently, the exhibit is rotating through a number of universities in metro Manila and will likely do so until the end of the school year. It started out at Ateneo de Manila for a small event put on by mountaineering students. Last week it was at De La Salle University for their Culture and Arts Festival and it will be at Ateneo's Law School next week for their Katutubo Week. It's really important for students and those in academia to learn and understand the importance of the country's IP's and outreach is part of the Katutubong Filipino Project's goals.
If you attended The Forgotten Ten please let me know your impressions, thoughts or any other feedback – good or bad, which will help when the next exhibit comes around. Thank you all again for making this something truly special and for bringing indigenous peoples into the spotlight for a couple of weeks.