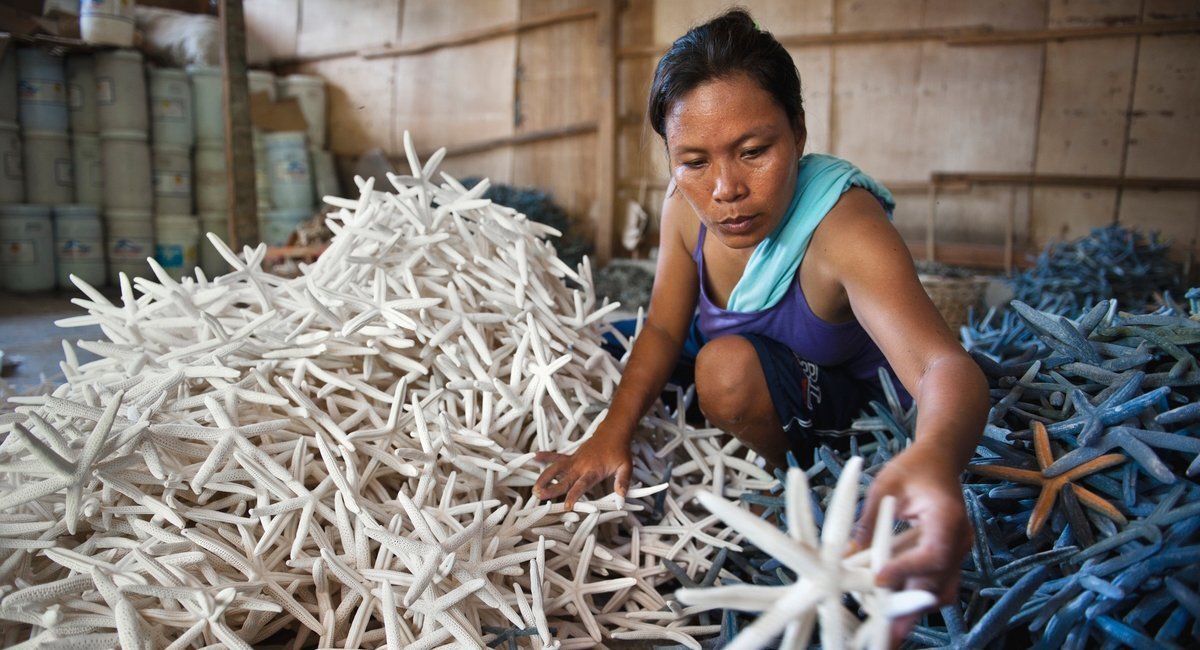 Olango Island Starfish Trade
Cebu, Philippines
I was doing some research recently and decided to see what the small island of Olango had to offer because of its proximity to Cebu. I knew the island had a bird sanctuary that is a popular birding destination, but I wanted to see what else the island might have to explore. While searching through some photos I noticed one image of a women standing next to a giant pile of starfish. The image was striking to me because I had never seen so many dead starfish before. I started to dig a little deeper and was able to find that one barangay in Olango island is known to export seastars, shells, urchins and sand dollars. I decided to go and have a look because I couldn't believe that starfish in this amount could be harvested and sold. For what? I was thinking.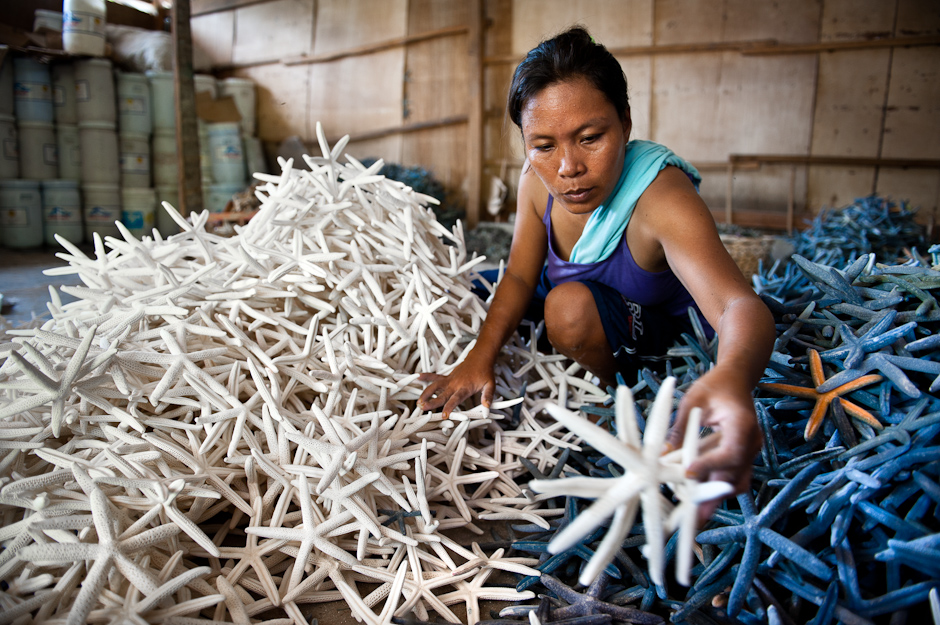 When I arrived to Olango I asked the motorcycle driver if he know of anyone selling starfish in barangay San Vicente. He nodded his head and drove me about 10 minutes to the other side of the island. He pulled up to a few men sitting on the side of the road and asked them where we could buy starfish. One of the men, Ronel, instantly said "you want to buy starfish?" I told him I was just looking to see where they were sold and I'd like to possibly take some photos. He brought me behind a few houses and then we entered into somewhat of a large courtyard with thousands of bleached starfish drying in the sun. Some of the workers toured me around the area and showed me their finished product with hopes that I was going to make a purchase. I told them I would just like to take some pictures of them working and they didn't seem to have a problem with that.
After spending a few hours photographing the workers I was asked by the manager to leave. It wasn't exactly clear why I was asked to leave, but she said I was taking too long to get my pictures. I thought this to be a bit unusual seeing that I had spent the last three hours there and bought all the workers a snack. Perhaps the manager realized that I may use the photos against this industry or maybe there was no reason behind it at all and she just wanted me to go.
The collection and selling of starfish and other marine life in Olango is actually not illegal, which I found saddening. It is only illegal for certain species, but its hard to imagine that this is enforced. After I was asked to leave from the starfish processing area I was brought to another mans house who had a collection of sand dollars, sea urchins and shells. This man asked me to wait and then brought out a small white box. He opened it and there was one murex shell inside which I know is illegal. The man told me that the Korean and Japanese tourists will pay over 5,000 pesos (over $100) for that shell.
There was a recent article I came across of some starfish being seized here in Cebu because the owner did not have the proper permit. You can see the short article HERE. There is another article I came accross as well about cracking down on the trade of shells here in Cebu HERE. Maybe this is a sign that law enforcement is keeping their eyes open for illegal marine products. I do know though that here in the Philippines, if there is money to be made with something, someone will figure out a way to pay off the right people in order for it to be sold.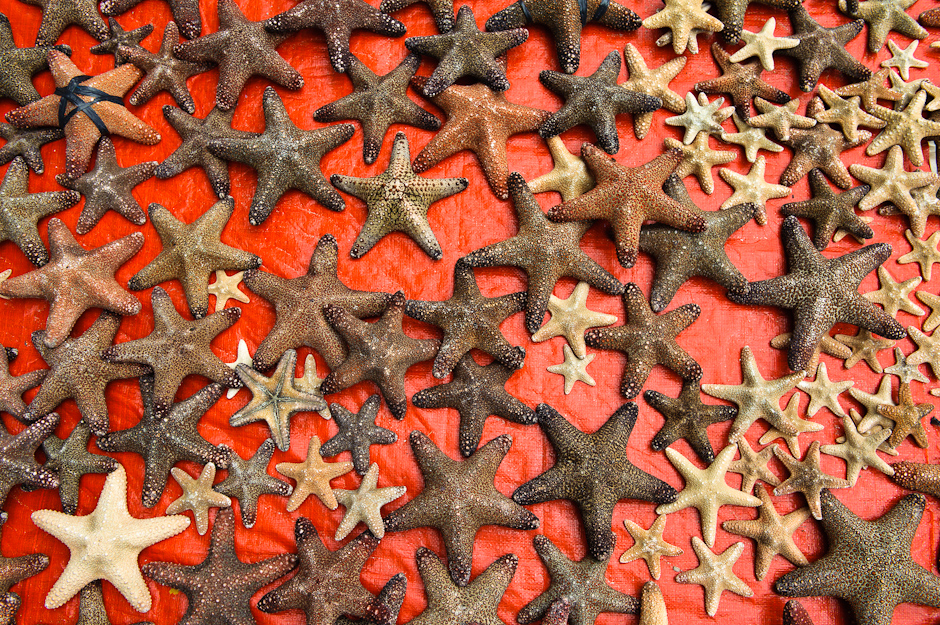 Most of starfish, sand dollars and shells in Olango are either collected locally or brought in from surrounding islands. The starfish and sand dollars are typically bleached to remove their natural color and smell. Some of them are then dyed bright gaudy colors such as hot pink and orange, others are left white. After the products are finished being processed they are exported to Korea, the United States, Australia and Japan primarily for home decors.
I did make it back to Olango a second day where I was able to photograph Rolando collecting some starfish (the second photo above). Although many of the marine products are collected from surrounding islands, locals still collect some in Olango. I was told they are given two pesos per starfish, depending on it's size and variety of course.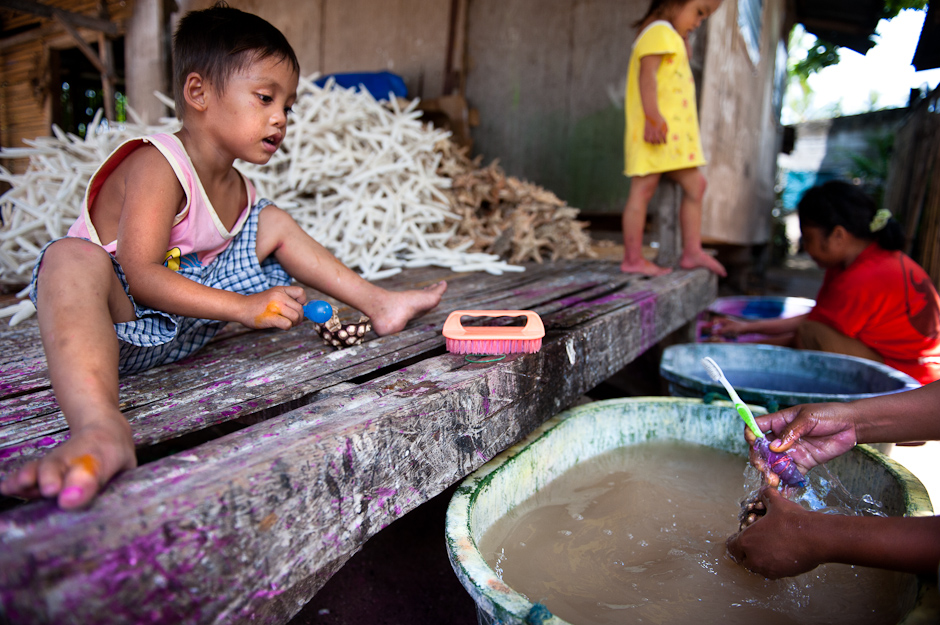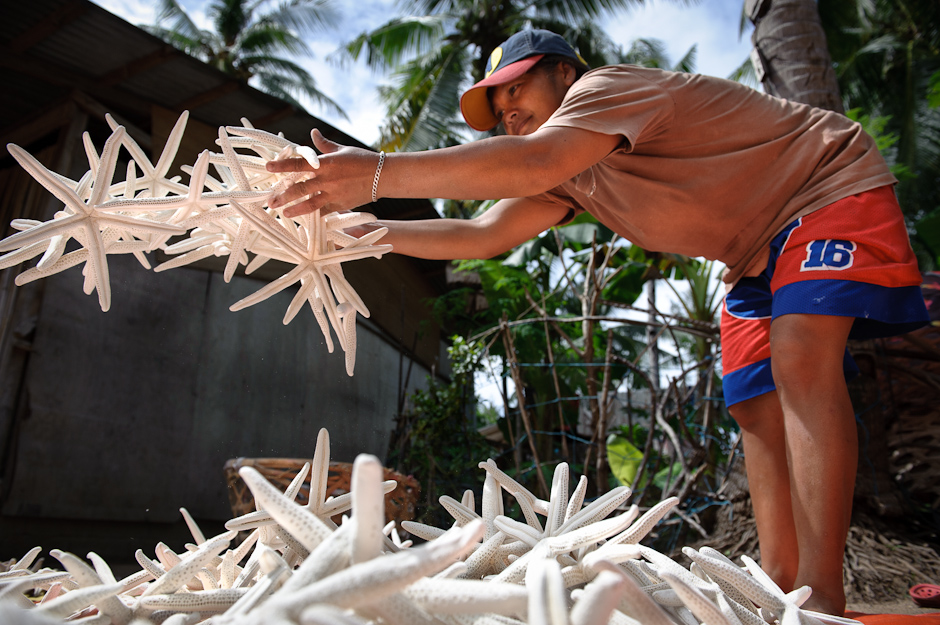 Jacob Maentz
Jul 12, 2011